Ever thought about going toe-to-toe with the mighty tarpon, also known as the "Silver King"? Myrtle Beach is the spot to make that dream a reality. Crystal-clear waters, a salty breeze, and the thrill of the hunt make this place a haven for tarpon fishing enthusiasts.
And if you're looking to get the most out of your experience, Captain Jordan Pate at Myrtle Beach Guide Service is your go-to guy. A seasoned fisherman with years under his belt, he'll show you the ropes and help you land that big catch.
Tarpon Fishing: An Unforgettable Experience
There's something special about tarpon fishing that gets the blood pumping. Maybe it's their sheer size – these beasts can grow up to 6 feet long and weigh over 200 pounds! Or perhaps it's the challenge they present. Tarpon are known for their acrobatic jumps and hard-fighting spirit. One thing's for sure: hooking one is a rush you won't forget.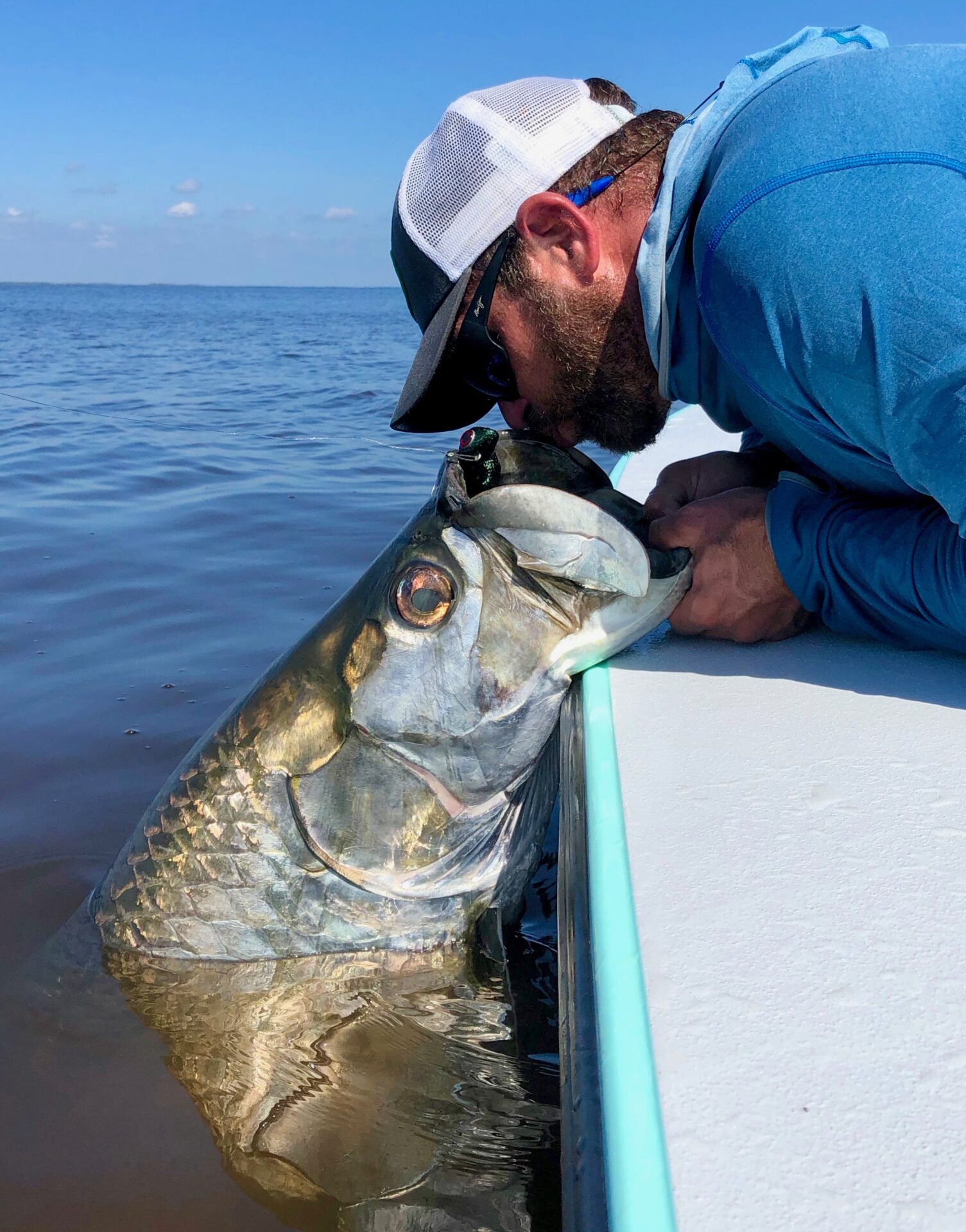 Tarpon are primarily found in warm coastal waters. Myrtle Beach, with its prime location and rich aquatic life, offers an ideal habitat for these majestic fish. Whether you're a newbie looking to land your first tarpon or a seasoned pro chasing that next big trophy, Myrtle Beach has something for every angler.
Key Takeaway: 
Imagine the rush of a Myrtle Beach tarpon fishing trip. It doesn't matter if you're a seasoned pro or just starting out, we've got something for everyone – from spotting fish in shallow waters to trips near the shore. The best time to visit? August-September, especially during the fall mullet run. That's when predatory fish chow down and Tarpon put on an unforgettable show with their aggressive leaps.
The Best Tarpon Fishing Opportunities in Myrtle Beach
The thrill of tarpon fishing is like no other, especially when you're casting your line into the waters of Myrtle Beach. With its pristine beaches and exceptional weather, it's a prime location for this exhilarating sport.
The Tarpon Fishing Charter Experience
Ready to hit the waters and chase after the Silver King? Here's what you can expect when you hop aboard a tarpon fishing charter with Captain Pate:
Gear Up: No need to haul your own gear. The crew at Myrtle Beach Guide Service has top-of-the-line equipment ready for you. From sturdy rods to the best baits, they've got everything you need for a successful day on the water.
Scenic Spots: Captain Pate knows all the prime tarpon hotspots. You'll cruise through beautiful inlets, marshes, and open waters, all teeming with aquatic life.
Hands-on Experience: Whether you're a greenhorn or an old salt, the crew will guide you every step of the way. Learn the best techniques, feel the thrill of the fight, and with a bit of luck, reel in a massive tarpon!
Catch & Release: Tarpon fishing is all about the sport, not the supper. After landing your catch, you'll have the chance to snap a few photos before releasing the fish back into the wild. It's all part of the respect for the majestic Silver King.
Tarpon fishing charters provide an unforgettable experience where you can reel in one of these majestic game fish. The adventure begins with understanding their habitat – welcome to the Winyah Bay Watershed and Estuary.
The Winyah Bay Watershed and Estuary
A gem hidden within South Carolina's coastal landscape, the Winyah Bay watershed boasts an incredible backcountry fishery that sets it apart from most others. This estuary system houses some extraordinary species including our star attraction – tarpon.
Waters here brim with marine life due to its nutrient-rich ecosystem which makes them an ideal hunting ground for larger prey such as tarpons who follow schools of baitfish along the coastline. What does this mean for fishermen? More opportunities to catch this prized trophy.
Tarpon are powerful fighters; catching one requires skillful handling and apt timing but fear not. Our experienced guides at Myrtle Beach Guide Service, backed by years on these waters will help make sure your trip is nothing short of memorable.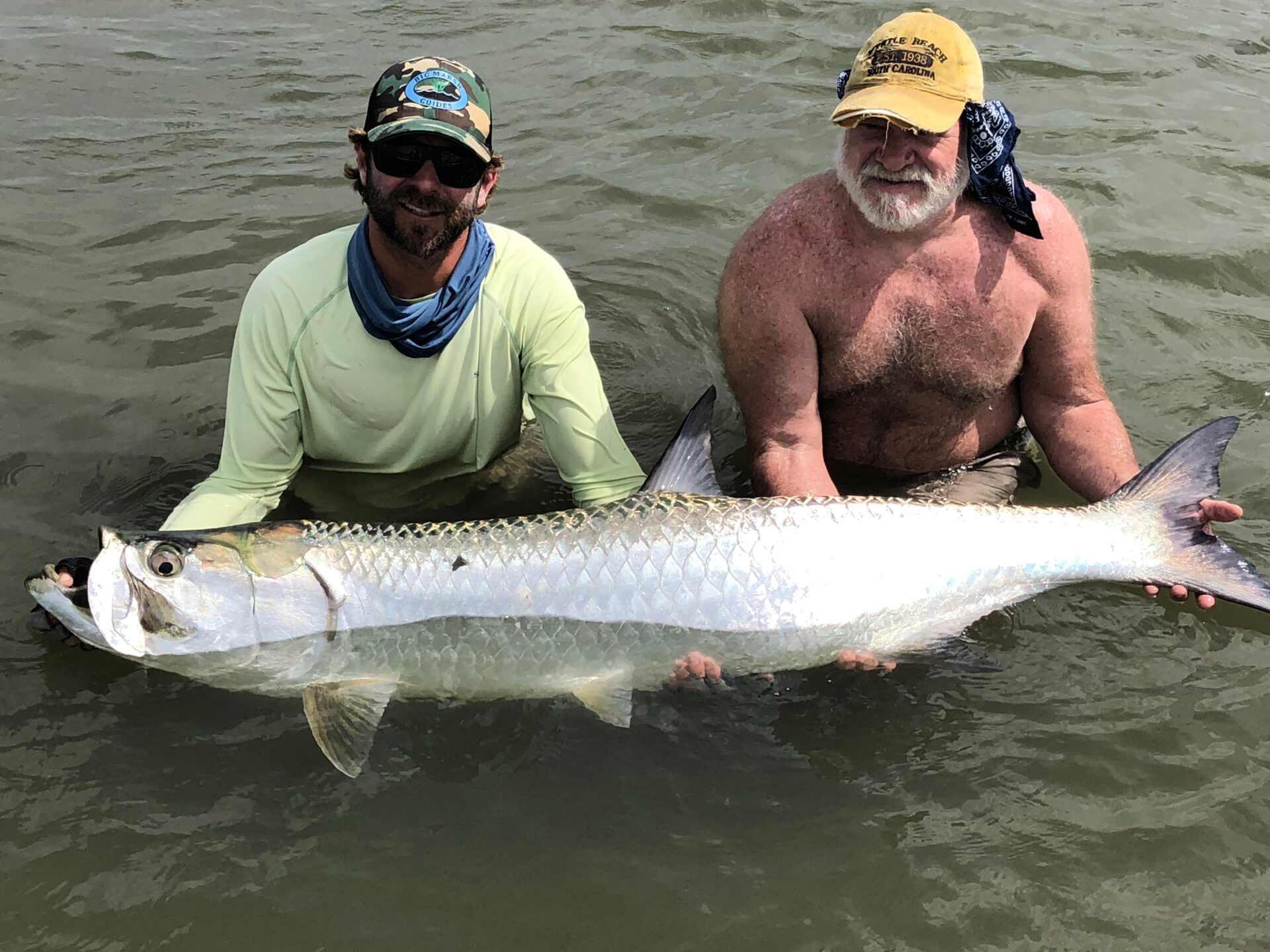 The Seasonality of Tarpon Fishing in Myrtle Beach
Understanding the seasonality of tarpon fishing is one of the most important aspects of this trip. In Myrtle Beach, the tarpon migration occurs during the summer months. This gives anglers an excellent opportunity to test their skills against these mighty game fish.
Fall Mullet Run – A Prime Time for Tarpons
In particular, one event stands out on every angler's calendar – The Fall Mullet Run. As schools of mullet make their way down South Carolina's coast from late September through October, they draw hungry tarpons into shallow waters.
This phenomenon creates prime conditions for hooking a big silver king at locations like Murrells Inlet, Pawleys Island, and Georgetown in South Carolina.
Avid fishermen know that this is no ordinary fishing trip – it's an adrenaline-fueled adventure. Imagine standing waist-deep in water as hundreds of baitfish leap around you with large predatory fish hot on their trail.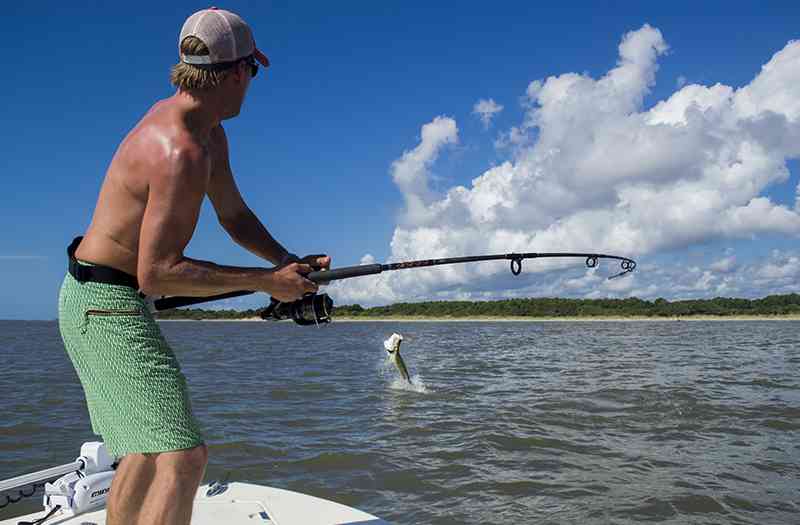 Making Your Move: Timing Is Everything
Tarpon are notoriously picky eaters; however, during the fall run when mullets abound, they're more likely to strike your lure or live bait because food competition increases among predators.
Bearing witness to this spectacular feeding frenzy can be both awe-inspiring and educational for seasoned and novice anglers alike. Not only does it provide thrilling action but also valuable insights into how these impressive creatures behave within their natural habitat.
But remember—while there's plenty happening above surface level, don't forget about what lies beneath. Understanding where and when tarpons feed will greatly increase your chances of hooking one. So, always be observant and adaptable.
Nailing the Tarpon Technique
Tarpon fishing ain't just about casting your line and hoping for the best. It's an art, a dance between angler and fish. Here are some tips straight from Captain Pate's playbook:
Use Circle Hooks: These are a tarpon's worst nightmare. They're designed to hook the fish in the corner of the mouth, making it easier to release them unharmed.
Float Fishing: Using a float can help keep your bait at the right depth and make it more enticing for the tarpon lurking below.
Stay Stealthy: Tarpons have sharp eyes. Approach your fishing spot with care, avoiding sudden movements or noises.
Patience is Key: Sometimes, the Silver King likes to play hard to get. Don't be disheartened if you don't get a bite immediately. Stay patient, and keep your eyes on the prize.
Understanding Tarpon Behavior and Habitat in Myrtle Beach
Way back when, Myrtle Beach wasn't just known for its golden sands and picturesque views. It was a hidden gem among seasoned fishermen, a place where tales of the grand Silver King were born. Over the years, as stories of epic battles between man and fish spread, more anglers flocked to these shores, rods in hand, hoping to experience the thrill for themselves. And just like that, a fishing legacy was born.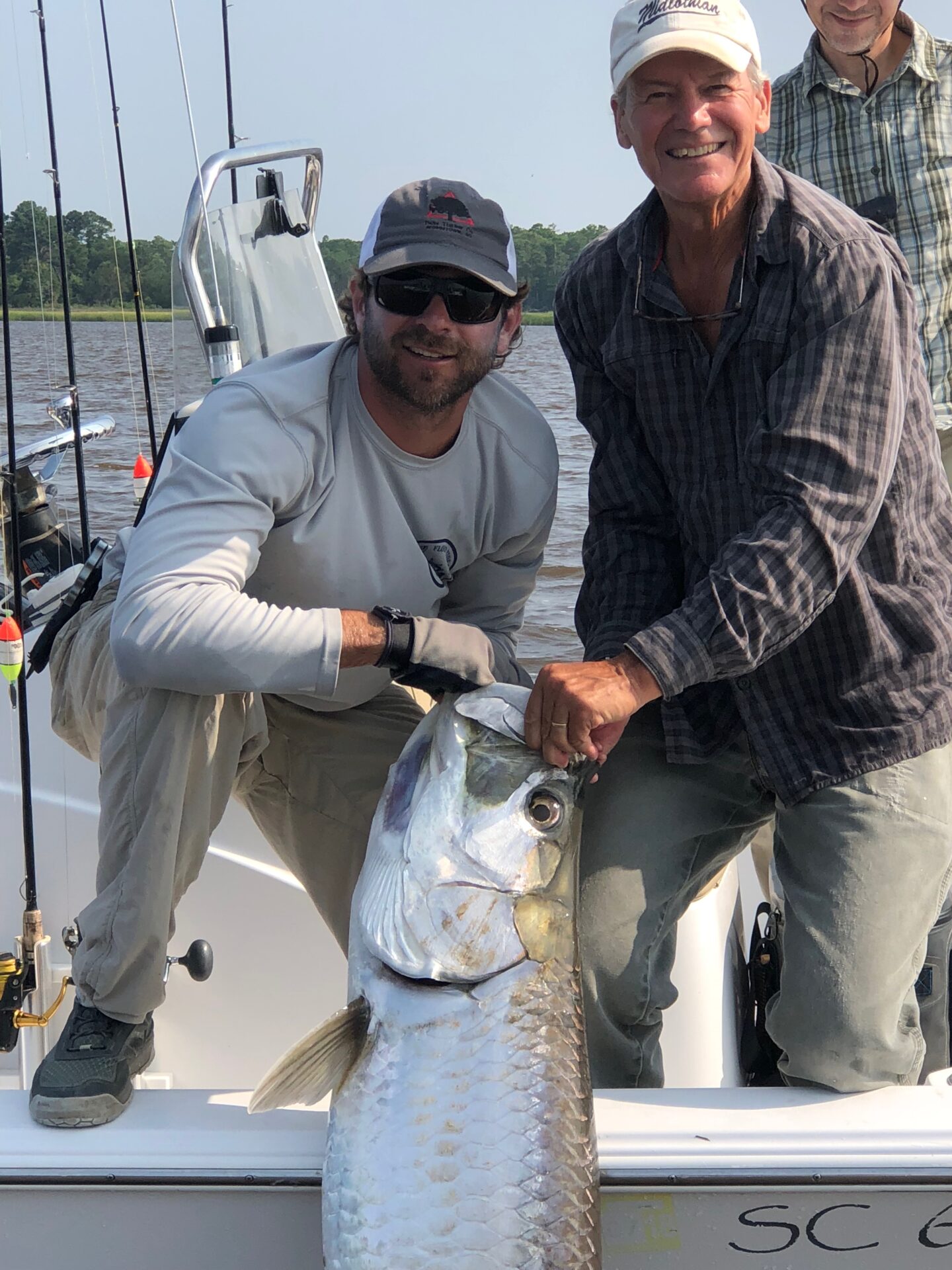 A Closer Look at Their Habitat: Shallow Creeks & Larger Prey Areas
Tarpon prefer warm coastal waters making places like Myrtle Beach ideal habitats with its mixtures between freshwaters from rivers mixing with salty sea water creating brackish conditions perfect for thriving marine life.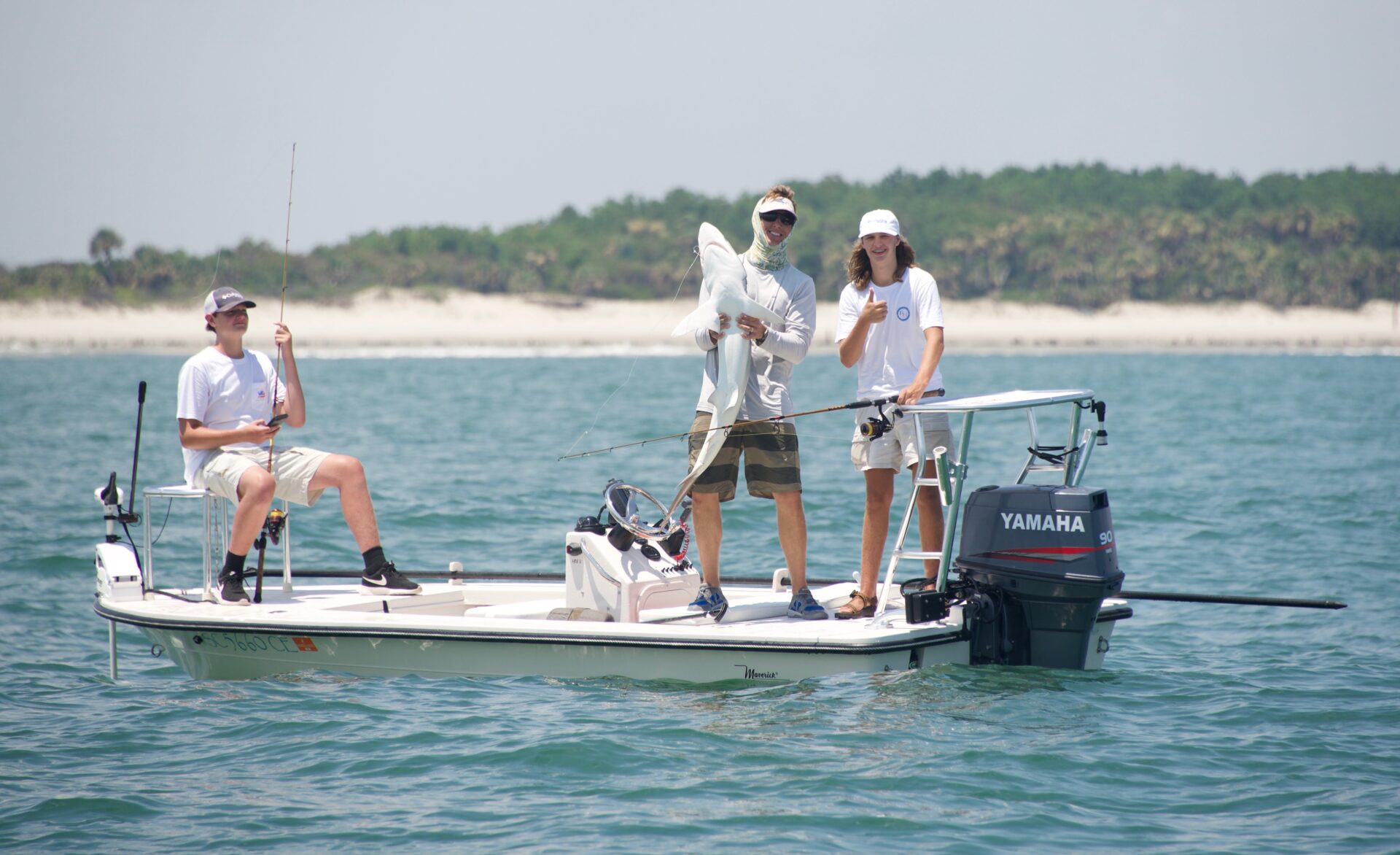 This unique habitat preference explains why we often spot them near estuaries or salt marshes during certain times of the year. It's not just about feeding, but these locations also offer shelter for tarpon.
Did you know that an adult tarpon can devour up to a quarter of its body mass in one meal? Their preference for larger prey gives anglers an exciting challenge – it's like playing chess with nature where each move matters.
Fishing With Care
While the thrill of the catch is what draws most to tarpon fishing, it's essential to remember the responsibility that comes with it. Tarpon are a precious species, and it's our duty to ensure their survival for future generations. Always practice catch and release, handle the fish with care, and avoid taking them out of the water for extended periods.
Safety isn't just about the fish, though. The sea can be unpredictable, so always wear a lifejacket, stay hydrated, and trust your captain. Remember, Captain Pate and his crew have been doing this for years – they've got your back!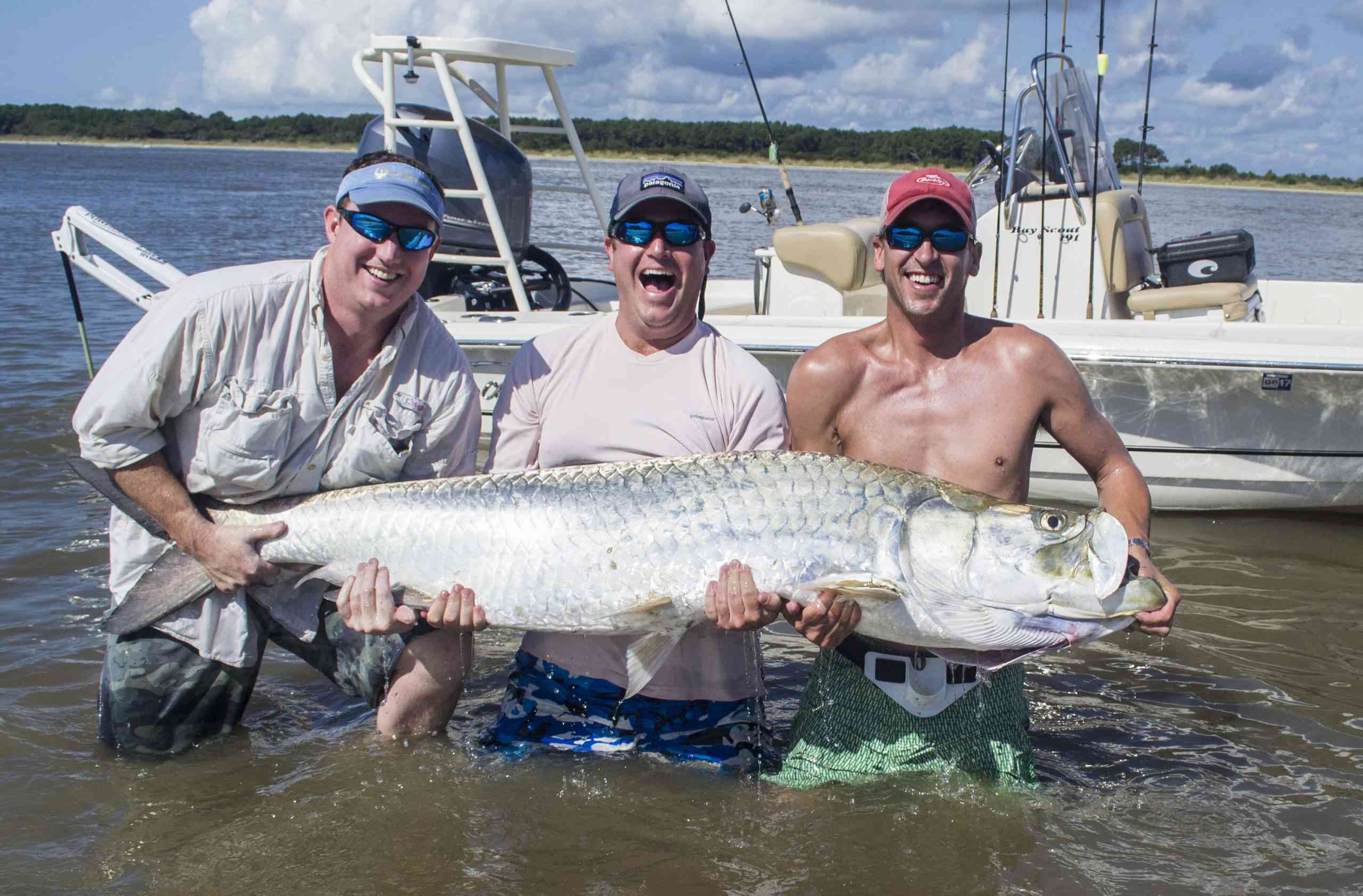 FAQs: Myrtle Beach Tarpon Fishing
Can you catch tarpon in Myrtle Beach?
Absolutely, you can reel in tarpons at Myrtle Beach. The peak season runs from August to September during their migration.
What month is best for tarpon fishing?
The prime time for catching tarpons falls between August and September, especially during the fall mullet run.
Where is the best place to fish tarpon?
In Myrtle Beach, one of the top spots for hooking a big silver king (tarpon) is within the Winyah Bay watershed and estuary.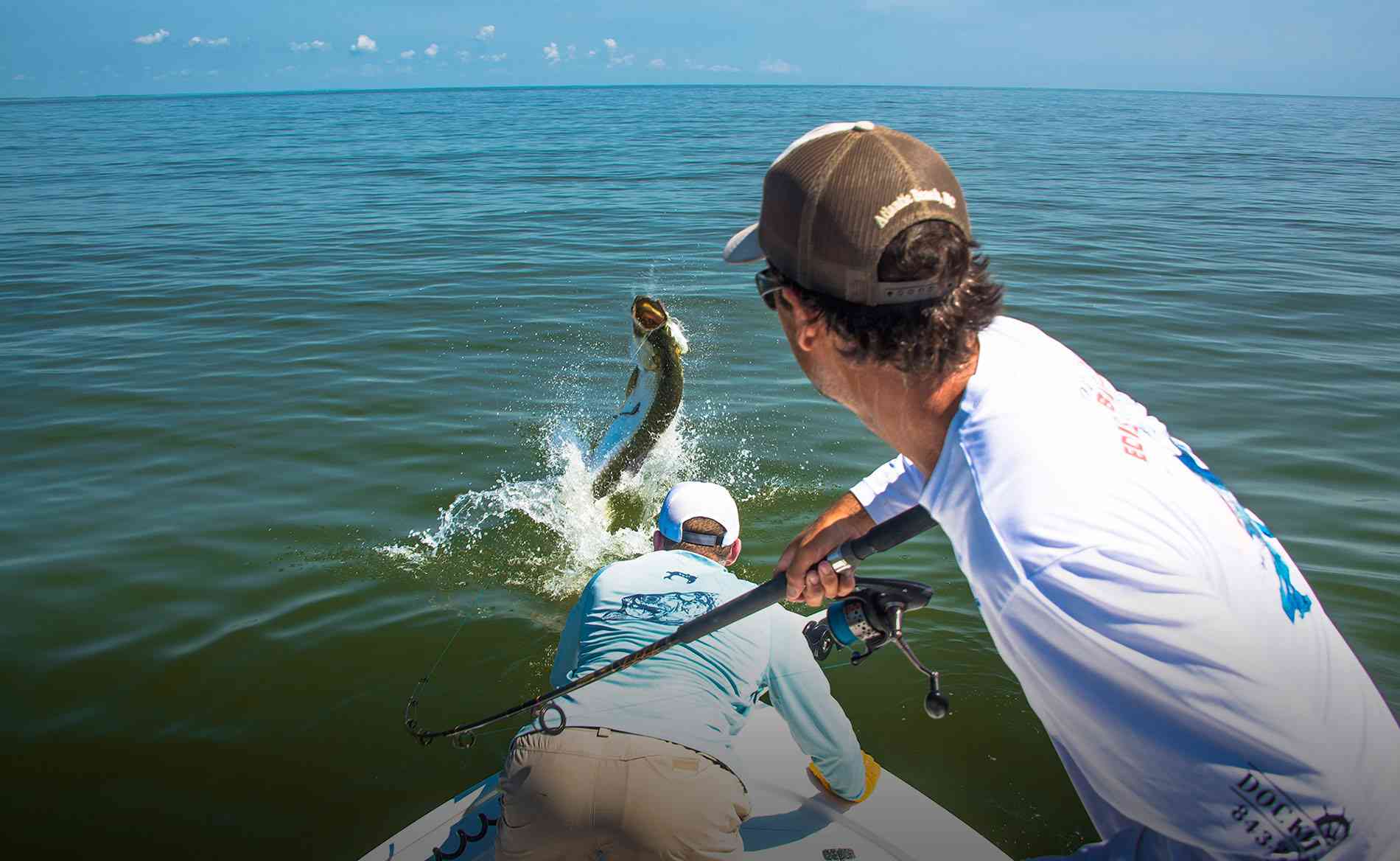 Book A Tarpon Charter
So, are you ready to embark on a fishing adventure of a lifetime? Myrtle Beach's waters are calling, and the tarpon are waiting. Whether you're an old hand at fishing or just starting out, there's no experience quite like tangling with a tarpon in these parts.
If you're looking to make some unforgettable fishing memories, give Captain Jordan Pate and the crew at Myrtle Beach Guide Service a shout. They're ready to show you the magic of tarpon season and help you land that dream catch. Don't wait too long – the tarpon are biting, and the boat's filling up fast. Hop aboard, and let's fish!
Reeling in with Captain Jordan Pate
When it comes to tarpon fishing in Myrtle Beach, Captain Jordan Pate is the name to know. A true saltwater cowboy, he's been navigating these waters for over 20 years. With a deep passion for fishing and an intimate knowledge of the local waters, Captain Pate guarantees an unforgettable fishing adventure.
Thinking about bringing the kiddos? No worries! Captain Pate and his team are great with kids and will make sure they have a blast while learning the ins and outs of fishing.
Hear it from the Anglers!
"I highly recommend these guys if you are looking for an unforgettable adventure. Very professional, helpful and was able to fulfill my bucket list of getting a big boy on the line! Thanks Thomas!!" – Bailey R.
"Capt Thomas was amazing he put us on fish all day long and my 6 Yr old son caught a lot of fish and catered to him and us and made the day magical for us 100000000000%" – A.C.
"Helluva day with Capt Pate! He is the best. Brought my kids too. Highly recommend a day out with this stellar guide. I never fish and tell but let me just say we caught a trophy." – John J.