As May arrives, so does the highly anticipated tarpon migration in South Carolina, providing anglers with an opportunity to experience the thrill of reeling in one of the ocean's most powerful and acrobatic game fish. With an average weight of 80-120 pounds and reaching up to 150 pounds, tarpon are a formidable challenge for any fisherman. So, prepare yourself for an unforgettable angling experience as we explore the ins and outs of tarpon fishing in South Carolina.
The Tarpon Migration in South Carolina
Tarpon are known for their seasonal migration, and South Carolina is a prime destination for these incredible fighters. The tarpon's arrival in the region typically coincides with the appearance of menhaden, a favorite baitfish for these silver giants. By late May, tarpon begin showing up in South Carolina waters, with their numbers steadily increasing throughout the summer months, peaking in August and September before they migrate back south in mid-October. The Fall Mullet Run, which typically starts in mid-August, often marks the peak of tarpon fishing in South Carolina.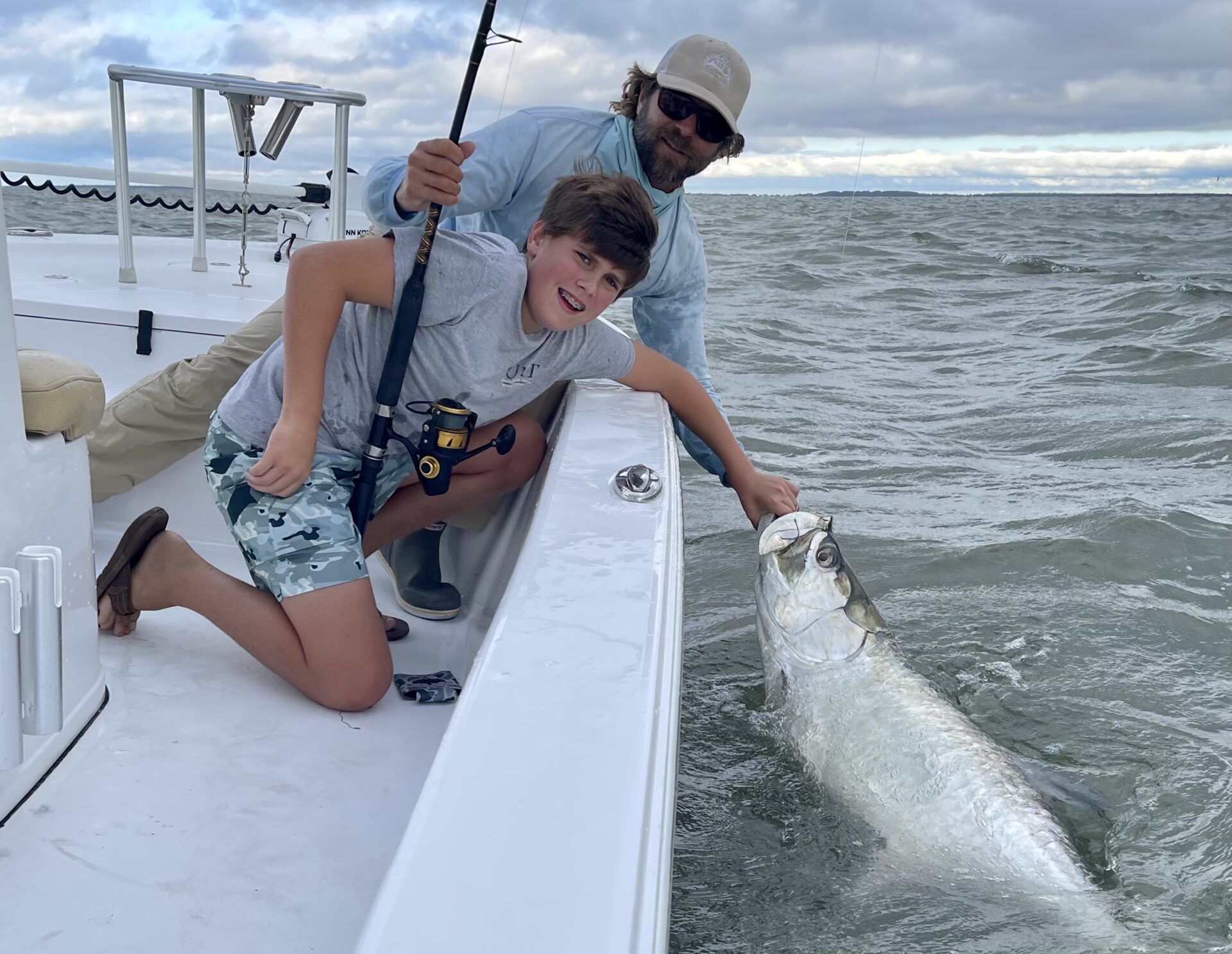 Where to Find Tarpon in South Carolina
In South Carolina, tarpon are often found in areas with minimal development and low boat traffic, such as Winyah Bay, Santee Delta, and Cape Romain – all located about 20 miles south of Myrtle Beach. Tarpon congregate along the beaches just beyond the breakers, near jetties and inlets, and will often travel miles upriver following baitfish. Understanding their tidal migration patterns and having local knowledge are crucial for success in tarpon fishing.
Tarpon Fishing Techniques and Experience Level
Fishing for tarpon requires patience, skill, and stamina, as fights with these formidable fish can last over 30 minutes. Anglers use various methods to target tarpon, including drifting live bait, casting artificial lures, and fly fishing. While previous experience is a bonus, it's not required. However, having a good set of sea legs is beneficial when fishing in larger bodies of water or choppy seas.
Catch and Release: Preserving Tarpon for Future Generations
Tarpon are strictly catch-and-release in South Carolina, as they have no edible value. It's essential to respect these incredible fish and ensure their survival for future generations to enjoy. If you'd like to commemorate your catch, consider a replica mount from a reputable company like Gray's Taxidermy, which can create an accurate and stunning representation of your prized fish.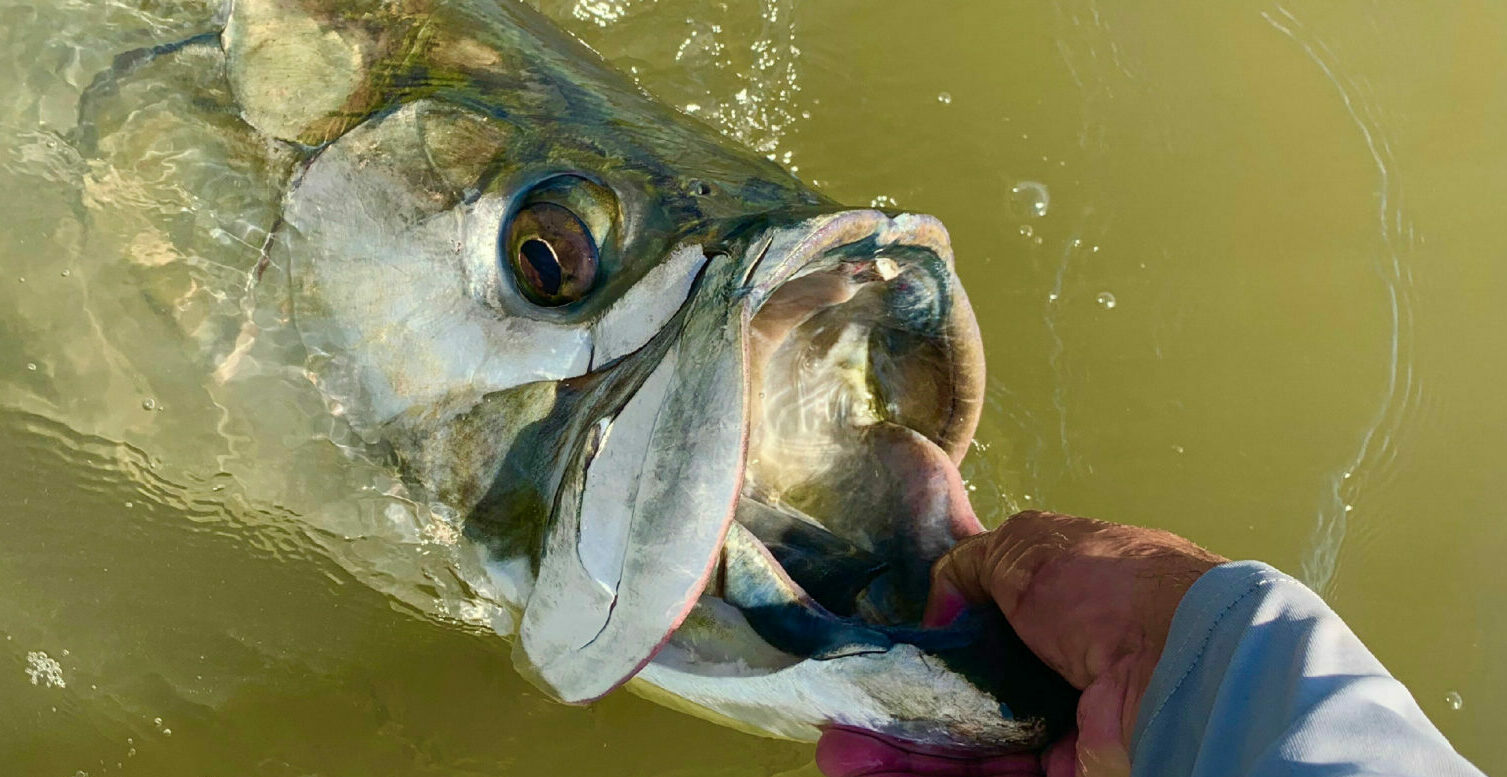 Experience Tarpon Fishing with Myrtle Beach Guide Service
For an unforgettable tarpon fishing adventure in South Carolina, look no further than Myrtle Beach Guide Service. Offering private fishing charters for anglers of all ages and skill levels, they specialize in shallow water sight fishing, saltwater fly fishing, inshore, and nearshore fishing experiences in the Myrtle Beach area.
Captain Jordan Pate, a US Coast Guard Certified guide, has a lifetime of experience fishing in the Myrtle Beach area. He works tirelessly to ensure that your fishing charter is not only memorable but also tailored to your skill level and preferences.
Don't miss the opportunity to take on the challenge of reeling in one of the ocean's most powerful and acrobatic game fish. Book your tarpon fishing adventure with Captain Jordan Pate today!