If you're looking for an exciting fishing experience, targeting redfish near Myrtle Beach is a great option. These fish are plentiful in inshore areas, and provide a thrilling fight when hooked.
Myrtle Beach Redfish
In order to increase your chances of landing one of these impressive fish, learn what type of bait and tackle works best. With a bit of preparation and good luck, you'll be reeling in some impressive redfish in no time!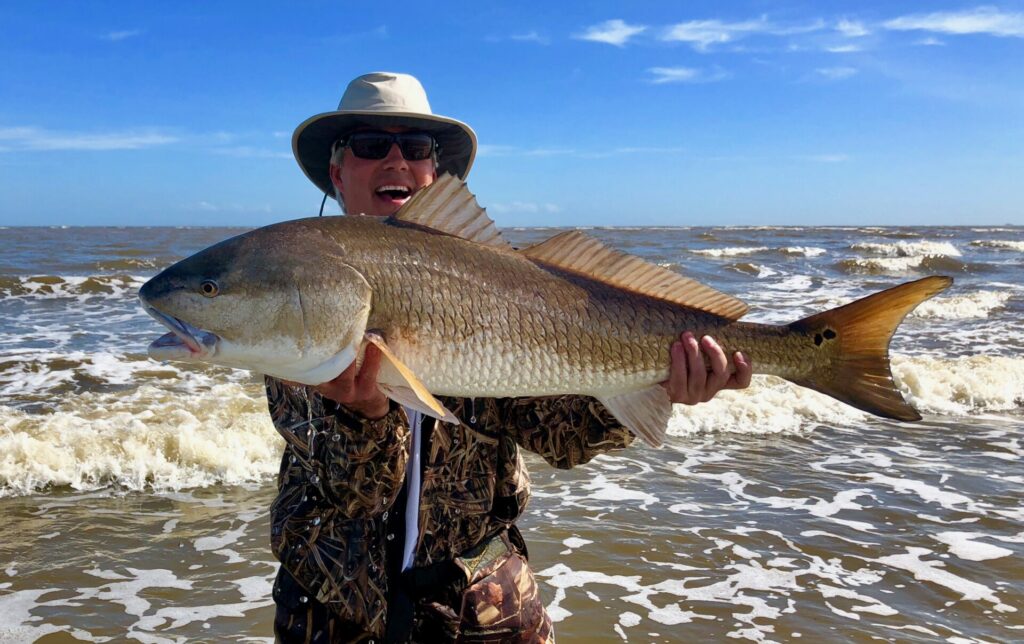 Baits and Lures
When targeting redfish near Myrtle Beach, it's important to use the right type of bait. Live shrimp and crabs are always a good option, as these fish are naturally attracted to them. You can also use cut bait, such as mullet or menhaden. If you're using live bait, be sure to hook it onto your line in a way that will allow it to move around freely.
Tackle
The type of tackle you use will also play a role in your success. For leader, fluorocarbon is best. Medium to heavy action rods paired with braided line is a good choice. This setup will give you the power you need to fight these fish (braided line provides the strength you need, but in a smaller diameter allowing for longer casts).
Fly Fishing
Redfish are one of the most popular fish to catch on a fly rod, and for a good reason. They're aggressive, have a good fight, and are perfect for sight fishing. What's not to love? If you're lucky enough to be near Myrtle Beach, you're in for a real treat.
The redfish population here is thriving, and there are plenty of opportunities to catch them on a fly rod. Whether you're wading in the shallows or casting from a boat, there are plenty of ways to hook into a redfish. And once you do, hang on tight! These feisty fish will put up a good fight.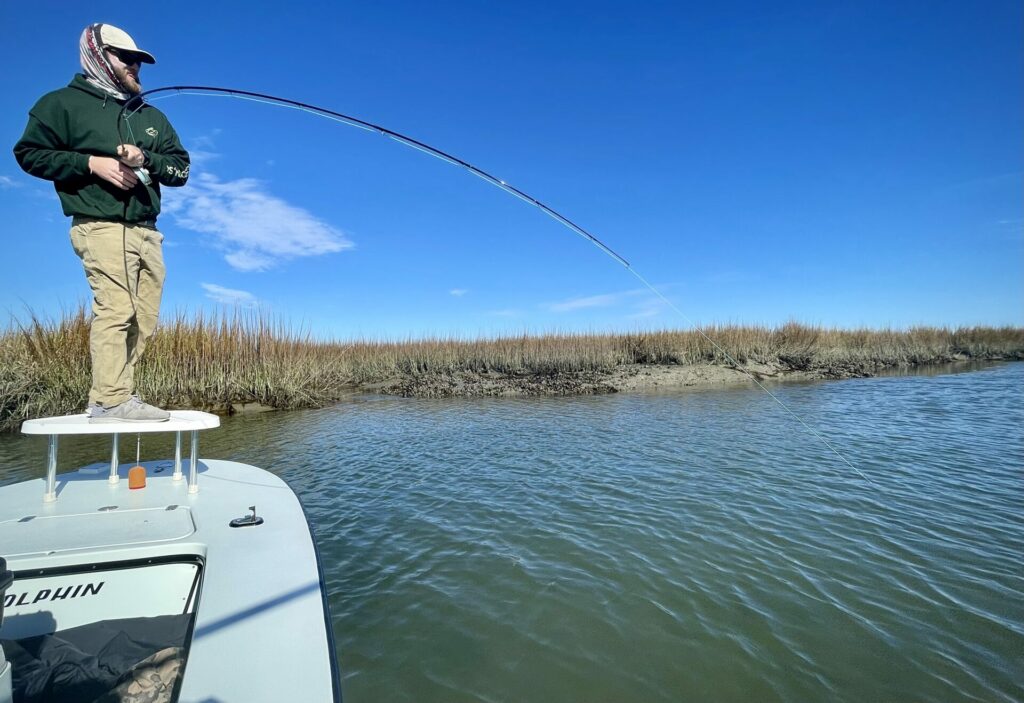 A good fly fishing setup for redfish should include a 9-foot rod, a weight-forward floating line, and a leader of about 9 feet with a tippet of 20-pound test. Flies that work well for redfish include Clouser minnows, deceivers, and shrimp patterns.
When it comes to presentation, redfish are often most receptive to a slow retrieve with plenty of pauses. If you don't get any hits after a few casts, try changing up your retrieves until you find something the fish are responding to.
Don't be afraid to experiment with different fly patterns. There are thousands of different fly patterns out there, and you never know which one will trigger a strike. So get out there and give it a try – you might just find your new favorite redfish fly!
Where To Look
When you're ready to start fishing, look for redfish in areas with ample vegetation. These fish love to hide in the grass, so target these areas when you're casting your line. If you don't see any fish near the surface, try using a weighted rig and fishing closer to the bottom.
Winyah Bay is one of the top redfish fisheries along The Grand Strand, and it's just a short drive from Myrtle Beach. The bay is full of healthy redfish, and the average size of the fish is about 28 inches.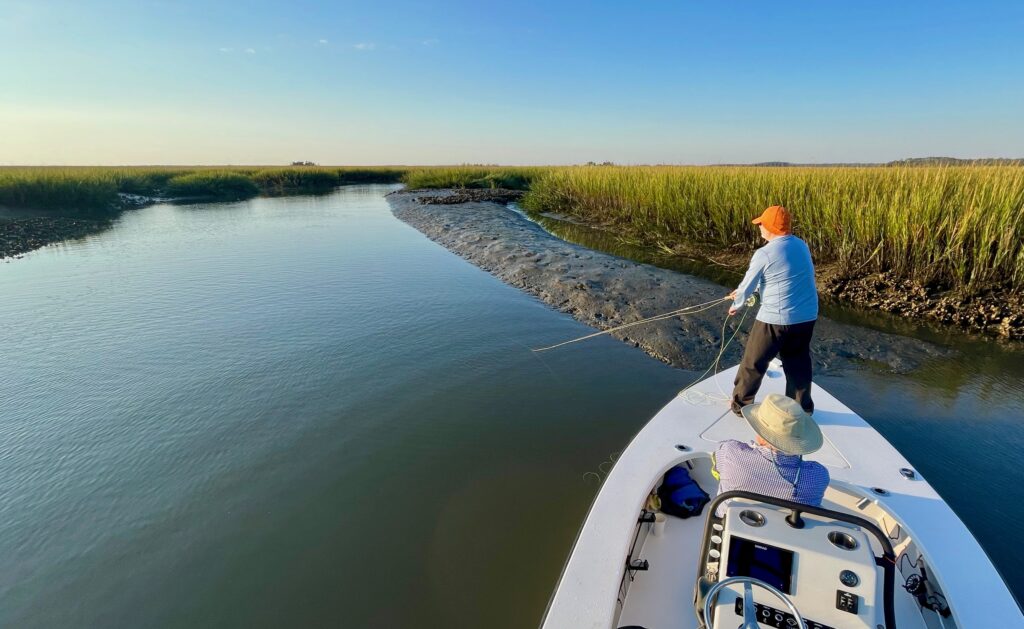 The bay is also home to a number of other game fish, including trout, flounder, and tarpon. In addition to the abundance of fish, the bay also has great weather year-round, making it an ideal destination for those looking to catch redfish. So if you're looking for the best place to catch redfish near Myrtle Beach, look no further than Winyah Bay.
With a little bit of patience and some good luck, you'll be able to land some impressive redfish near Myrtle Beach. Use the tips above to increase your chances of success, and enjoy an exciting day on the water!
Fish With Us
Most of the Inshore fishing charters take place within sight of land, using light tackle for species like Redfish, Speckled Trout, Black Drum and Sheepshead. Seasonal species like Tarpon, Sharks, Cobia, and Flounder are present in the warmer months and can also be caught without venturing into the ocean.
Inshore fishing is a great way to spend a relaxing day on the water in one of the most beautiful settings in South Carolina. The tranquility of being on the water and the excitement of waiting for that next bite make inshore fishing one of the most enjoyable experiences available.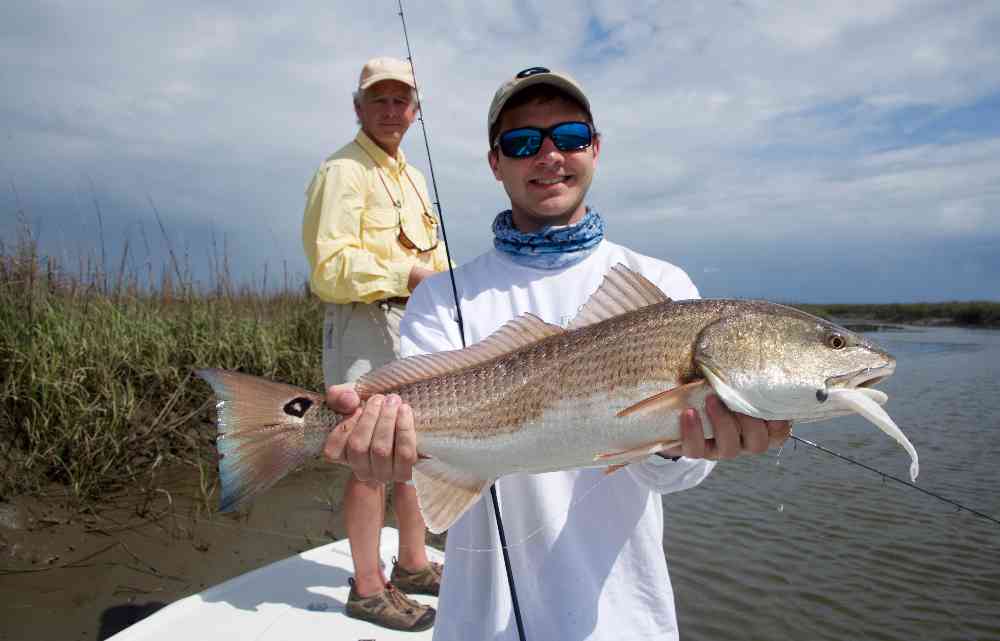 If you're looking for a fun and relaxing day out on the water, then our inshore fishing trips are perfect for you! We'll take you to some of the best spots in Winyah Bay, where you can enjoy catching a variety of fish. We access Winyah Bay from Georgetown.
Georgetown is a historic city located in the low-country region of South Carolina. The city is located on Winyah Bay. Winyah Bay is a coastal watershed at the confluence of five rivers: Pee Dee, Waccamaw, Black River, and Sampit.
If you're looking for a fun and exciting day of fishing, then book one of our inshore fishing trips today! We'll take you to some of the best spots in Winyah Bay, where you can enjoy catching a variety of fish – including redfish.
Contact us today to book your trip!